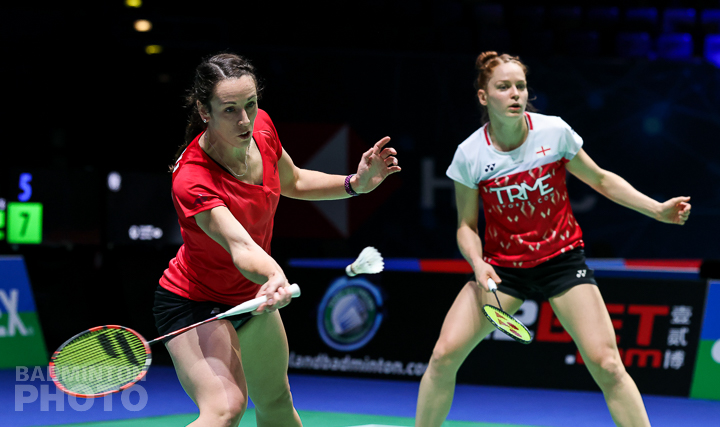 Chloe Birch and Lauren Smith have personal history in their sights as three English pairs get set for quarter-final Friday at the YONEX All England Open Championships.
England's leading women's doubles pair will face top seeds Yuki Fukushima and Sayaka Hirota in a mouth-watering clash in Birmingham, looking to beat their Japanese opponents for the very first time.
Birch and Smith took the opening game in the most recent of their three meetings in October, with a place in the semi-finals the prize should they go where they've never gone before.
"We have a much bigger challenge [against Fukushima/Hirota]," said Smith. "That's exactly why we're here, we want to measure ourselves against the best players in the world.
"We want a chance to take them out, because the pressure's on them."
That titanic tussle opens the show as the first match on Geoff Rofe Court, with live coverage beginning at 10am.
Birch added: "We're seeded this year and we had two games we thought we should win, we were favourites on paper.
"We've delivered on that and come through quite strong.
"It [the quarter-final] is a really good game for us, we've got some confidence and we're really looking forward to the challenge of playing the best in the world.
"That's why we're here, that's what we want to do."
On a day bristling with English talent, Smith will also take centre stage in the penultimate match of the day for the mixed doubles alongside Marcus Ellis.
The two, seeded fourth in Birmingham, reached the semi-finals 12 months ago and are just one win away from repeating the trick in 2021.
A second successive Danish challenge stands in their way, preparing to do battle with Mikkel Mikkelsen and Rikke Soby having defeated Rasmus Espersen and Christine Busch.
Perhaps ominously for those on the other side of the net, Ellis and Smith still feel their game has new levels to reach this week.
"Hopefully there are better things to come tomorrow, because it was just about good enough," admitted Ellis.
"They say the best wins are the ones when you don't play as well. I disagree – I want to play well, win or lose.
"We're our biggest critics, as well. I'm sure our coach will have some criticisms. We know what we did wrong and what we did right today and what we need to step up."
Like Smith, Ellis also has two quarter-finals to contend with as he and Chris Langridge look to reach the weekend showcase in the men's doubles.
But Team GB's Olympic bronze medallists will have to pull out all the stops to reach semi-final Saturday.
Third seeds Takeshi Kamura and Keigo Sonoda of Japan are on the other side of the net, a pair Ellis and Langridge are looking to beat for the first time.
Langridge said: "We played a lot better in the second round than in the first, so hopefully we can keep building into the week."