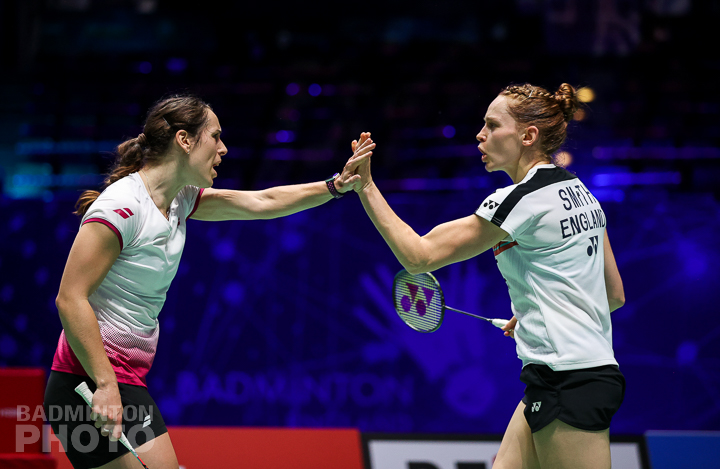 Chloe Birch and Lauren Smith are settling into a steely focus on Tokyo 2020 after going toe-to-toe with the world's best women's doubles pairing at the YONEX All England Open.
The English duo gave as good as they got in a 21-14 12-21 14-21 quarter-final defeat to Japan's Yuki Fukushima and Sayaka Hirota.
It was their fourth meeting with three-time world silver medallists – and by far the most encouraging, particularly in an imposing first set display.
"We can take a lot from the first set," said Birch. "We were comfortable with our tactics, which gave us the belief to carry on working to our plan.
"We did it really well in the first, and at the start of the second, but they just started to adapt and play in a style that counteracted ours.
"I look back at when we first played that pair and we got thrashed. In the three years we've played together, we've come far and to get that close to competing and beating them is great."
Birch and Smith went on the attack in the first, turning 12-11 into 17-12 in their favour with punchy net play and attacking purpose.
Their opponents were warned by the umpire for taking lengthy breaks in between points – when they were earnestly debating their game plan – such was the English pair's dominance.
As the best do, Hirota and Watanabe came out fighting and used their outstanding defence as a platform to graft out victory in 1 hour and 16 minutes.
"It's the defence, and not just the number of shots they get back but the quality of the shot that comes back," offered Smith.
"A lot of people get the shots back, but with them you're always having to move and make you work extremely hard for every point.
"That first set we won, but we invested so much of our energy to do that. That's what they do to people, that's what we try to do to our opponents."
The seventh seeds knew they had first and second round games they could win and delivered on their favouritism in stle.
Wins over Indian and Danish opponents by the same scoreline – 21-14 21-11 – represented boosts to their belief in competing at Super 1000 level.
All that is just what the doctor ordered in what is now an Olympic and World Championship year.
"I'd like to see us on the podium at the Europeans, and we just keep building," Smith said.
"We're happy, but we're never satisfied. We want more and we want to keep developing. Hopefully next year we can come back and take out one of these top players."
Next stop for Birch and Smith is the Super 100 Orleans Open and the European Championships in Kiev at the end of April.
And nicely nestled as they are in the Olympic qualification rankings, they look like going to Tokyo at the perfect time.
Birch said: "As we've shown, we can compete and do well against these top players.
"There are another few months before we get to Tokyo, and there are so many things we can put into our game, so we can turn up to an Olympic Games and really cause an upset."