National rankings is a measure of the where you stand in overall order of merit from tournaments in the last 12 months. National ranking points are awarded to players competing in circuit tournaments, english national championships and sanctioned international tournaments.
Find your national ranking
National Grading has been introduced for players of all ages and abilities to identify their individual playing standards – and then find sanctioned tournament circuits that meet their on court levels.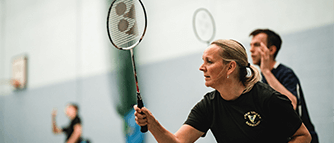 Find your current grading
Player grade indicates the players known level of play based in groups of similar standard. Players are awarded a grade when they enter one of Badmitotn England's tournaments and helps to signpost players to the correct level of tournament, and is also used to restrict tournaments to players of the right level.
Playing badminton in one of our partner venues
With over 22,000 courts across England, we work with a wide range of national and local providers to offer more chances for everyone to play badminton in their area. Whether it's organised court time for children or adults, hiring a court to play against friends or compete in local tournaments, you can find out how to get involved through our partner links below.