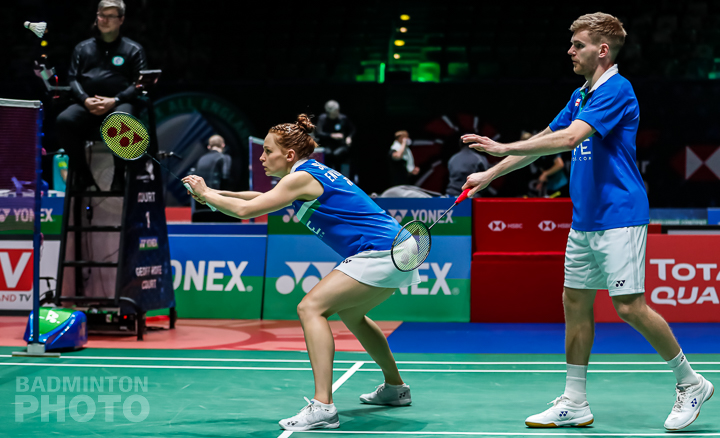 England's seeds sealed passage to the second round on an enthralling opening day at the YONEX All England Open.
Last year's semi-finalists Marcus Ellis and Lauren Smith passed their first test, taking a dominant 21-12 21-11 victory over Ireland's Paul Reynolds and Rachael Darragh on Geoff Rofe Court.
The fourth seeds were on the front foot from the word go and wrapped up victory in 31 minutes.
"I thought the empty arena would be weird and I was right – it's so bizarre," Ellis said.
"We have to remember there are thousands of people watching on television and we want to put on a good show for them.
"There are opportunities all over the draw. I'm just going to focus on performance this week and we'll have a real shot if we play to our best, albeit it feels like a while since we got there."
And it was a similar story for Ellis in the men's doubles alongside Chris Langridge, seeing off Josh Magee and Reynolds 21-14 21-13 in a less one-sided but still assured display.
"I don't think we played our best. At the end of the day, it doesn't matter, we won," said Langridge.
"The YONEX All England is a great event, the best event in the world, and it means so much to people."
Smith and Chloe Birch saw training adjustments pay dividends as they pushed past India's Ashwini Bhat and Shikha Gautam in straight games, 21-14 21-11.
The women's doubles seventh seeds progressed from the first round for the second successive year.
"We've learned a lot during the pandemic, and the Asia leg was really good to know to gauge our level," said Birch.
"Since then, we've worked on a few things that are really paying off, and we saw that today."
Elsewhere, childhood friends Callum Hemming and Steven Stallwood made their dreams come true with a pulsating victory over Denmark's Dan Lundgaard and Mathias Thryrri.
The pair first attended the event together, aged ten, and on their debut appearances took a 16-21 21-18 21-17 triumph.
"Emotions are all over the place – we're just very, very proud to play at this tournament," said Hemming.
"The aim was to stay disciplined and stick to our tactics. We know our level, against any pair if we bring that level, anything can happen."
Sadly a third-game standoff didn't go the way of Ben Lane and Sean Vendy as they fell to Indonesian heavyweights Mohammad Ahsan and Hendra Setiawan.
The ever-improving Englishmen hung with the three-time world champions throughout a 56-minute contest and the third game turned on two unlucky net cords going against them.
"We're so close to them now, we do want to keep trying to challenge them and get chances to beat them, to prove we can beat them," said Vendy.
"Their experience in the big points matters. We just need to get in those positions more against the top five in the world to get that experience and get over the line."
Toby Penty overcame disrupted preparation to give a good account of himself on YONEX All England debut, but his singles campaign ended 17-21 14-21 to Japan's Kanta Tsuneyama.
"This is the first match in practice or at a tournament that I've played in three months. I think if it wasn't this tournament, I wouldn't have played," he said.
"That's the high esteem I hold it in. I wanted to do everything I could to play. I've been coming here watching since I was 12 years old with my Dad, and I know they will be watching at home. It was really special to play here for the first time."
Meanwhile, newly-formed pairing Matthew Clare and Ethan Van Leeuwen took a set off the famous Indonesian 'Daddies' of Marcus Fernaldi Gideon and Kevin Sanjaya Sukamuljo.
They eventually went down with a fight, 12-21 21-19 9-21.
Rory Easton and Zach Russ also went toe-to-toe with the world's best, beaten 21-4 21-9 by Japanese fourth seeds Hiroyuki Endo and Yuta Watanabe.