The countdown to the delayed 2020 Paralympic Games is almost over, with four badminton history makers set to fly the British flag on sport's greatest stage for the first time ever in little over two weeks.
While the Games get underway on August 24, Jack Shephard, Dan Bethell, Martin Rooke and Krysten Coombs will be vying for glory from September 1, when badminton makes its eagerly-awaited Paralympic debut in Japan.
As the clock ticks down we've caught up with each member of the ParalympicsGB squad, as well as physio Sinead Chambers who discussed how preparations have been going behind the scenes.
And with anticipation ramping up, there has never been a better time to get stuck into Para Badminton yourself, with opportunities available across the country to suit all disabilities.
We've picked out two clubs below that are encouraging people to pick up a racket and shuttlecock, facilitating dreams of following Shephard, Bethell, Rooke and Coombs on the Paralympic path.
TYNESIDE DISABILITY BADMINTON CLUB
Background
Set up in partnership with Sport North Tyneside, The Parks Sports Centre and LD: North East in March 2019, Tyneside Disability Badminton Club provides an opportunity for adults with learning and physical disabilities from across the North East to take part in friendly, fun and social weekly badminton sessions.
The club's dedicated coach, Mark Thompson, attended Badminton England's Disability CPD Workshop to further develop his skills and knowledge of coaching disability badminton sessions. Following this, he now delivers a mixture of coaching and game play within the sessions.
Impact
Over 30 disabled players have attended sessions at the club since its launch. The club has continued to see a growth in participation and now has 19 members who are registered with Badminton England.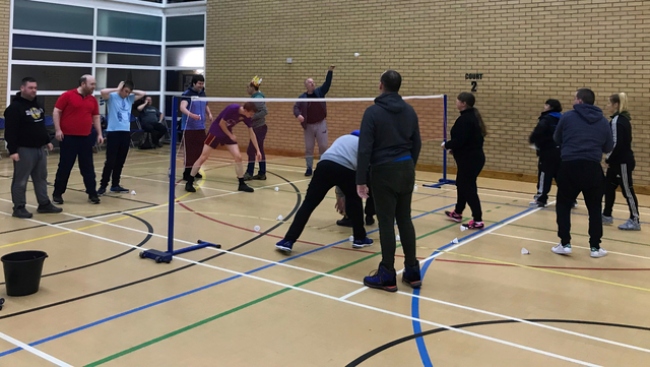 Working with its partners has enabled the club to access courts, funding and support with marketing to boost participation, while strong relationships with local charities have also been established.
What they said
Coach Mark Thompson said: "The badminton club is really good as it brings the community together.
"Participants have made friends by coming along to the sessions and they all encourage each other to do better."
Rhiannon Gray, from LD: North East, added: "Lots of friendships and relationships have been built from people coming to the badminton club.
"As well as the physical and psychological benefits of participating in sport, it's also a great way to have fun with friends and reduce social isolation."
Get involved
For more information visit https://www.sportnorthtyneside.org.uk/disability-badminton/, call Sport North Tyneside on (0191) 643 7445, or email sport@northtyneside.gov.uk
WIMBLEDON RACQUETS & FITNESS CLUB
Background
By delivering Badminton England's Disability CPD Workshop, Wimbledon Racquets & Fitness Club upskilled 15 coaches in the area to be able to provide Para Badminton sessions. This has led to weekly pan-disability sessions at East Surrey YMCA in Redhill and fortnightly sessions for people with physical disabilities at the club.
A disability badminton programme written by coach Lorraine Brydie allows each player to progress at their own pace and be rewarded for incremental achievements.
Using a Racket Pack equipment bag, the club delivered a badminton festival for six SEN secondary schools in Wandsworth and with similarly strong ties to Enable Leisure, Youth Sport Trust and Merton Council, it hopes to provide similar events in the future.
Impact
Attendance at the club's sessions continues to grow, with all those attending becoming members of the club and Badminton England. Participants of the physical disability sessions are also encouraged to volunteer at the pan-disability sessions in Redhill.
Wimbledon Racquets & Fitness Club hosted a Special Olympics regional tournament with 30 players in attendance. Nine players came directly from the club's own sessions, and one has also competed internationally.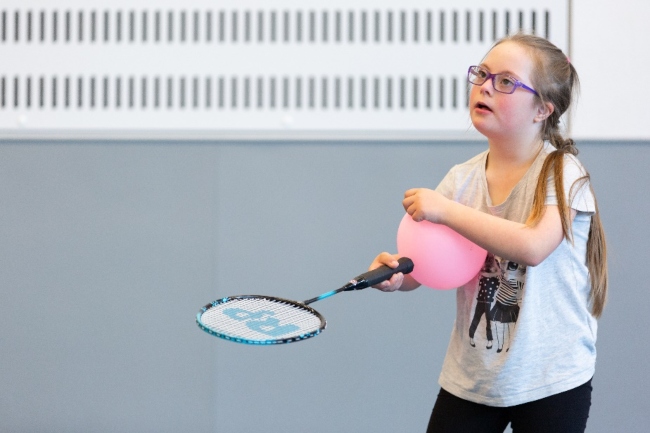 As numbers continue to grow, the club are keen to organise local matches for their players, while also taking part in events such as the 4 Nations tournament.
What they said
Disabled badminton player Ronan Tofts said: "The coaches have helped me to develop my skills. I took part in the Special Olympics in February 2020 and won a medal with my team.
"This club has given me a focus for my leisure time. I get regular exercise, I have made new friends, I have developed my badminton skills and I can compete against other players."
Coach Lorraine Brydie said: "The funding from Badminton England has steered us on the right path to increase disability badminton participation and competition.
"The uptake of player participation on the back of the Tokyo Olympics and Paralympics will be huge, so now is the time for clubs to seize the opportunity to introduce and grow badminton for disabled people."
Get involved
For more information visit https://www.wimbledonclub.co.uk/badminton-wimbledon/disability-badminton/, contact club reception on 020 8947 5806, or email Lorraine Brydie on lorrainebrydie@hotmail.co.uk
If you would like to find your nearest place to play, please contact inclusion@badmintonengland.co.uk
Learn more about Para Badminton and discover further opportunities across the country by visiting https://www.badmintonengland.co.uk/on-court/disability/