Opportunity knocks for an all-time high 19 English players on the biggest stage of them all, the YONEX All England Open Badminton Championships.
It has been a difficult year for all those involved in the sport but the next five days will be a global showcase of how the nation's best and brightest have persevered.
It is the biggest English contingent in modern memory, with the entry of 13 home hopefuls in 2014 the next-largest in the last decade.
Marcus Ellis and Lauren Smith are seeded fourth in the mixed doubles draw for a tilt at England's first gold medal since Nathan Robertson and Gail Emms prevailed back in 2005.
The pair are fresh from a run to the semi-finals at the Swiss Open and famously reached the final four in Birmingham last year, their best-ever result.
They open their campaign against Germany's Jones Ralfy Jansen and Kilasu Ostermeyer, who they have beaten in straight games in two recent meetings.
Ellis said: "The YONEX All England feels like home, it doesn't even feel like a competition for me and that's one big home advantage we'll still have this week when we're on court.
"Coming back, overall, has been really difficult. But every passing tournament, Lauren and I have made small improvements, getting more and more used to the new normal.
"It's been relatively smooth sailing when we've played the German pair but it doesn't mean this is going to be the same. We have to prepare as if we've never played them before.
"Hopefully this week we can get back to what we know we can do."
Smith is also seeded in women's doubles, seventh alongside Chloe Birch.
The Cumbrian duo, ranked 15 in the world, emerged from HSBC BWF World Tour Finals debut in January with a victory and face Indians Ashwini K Bhat and Shikha Gautam for the first time in the opening round.
"Main Hall Practice ✅

Great to be back in the @YonexAllEngland arena, excited to get started tomorrow."

📸 laurensmith/Instagram pic.twitter.com/OZKAG76KIj

— Badminton England (@BadmintonEnglnd) March 16, 2021
"Chloe and I have got a good draw, there's opportunity with the Chinese not being there and some other countries not competing," said Smith.
"We've been working on things that have made a big difference to our game in the last few weeks and hopefully we can show that on the court."
Ellis made his YONEX All England Open debut back in 2012, and men's doubles partner Chris Langridge is even more long in the tooth at the event having first appeared in 2004.
The Olympic bronze medal-winning pair reached the quarter-final in 2020 and in their first tournament back, swooped to Super 750 glory at the Denmark Open in October.
Ellis and Langridge's first hurdle comes in the form of Ireland's Josh Magee and Paul Reynolds.
Ellis said: "Chris and I have had a topsy turvy few months.
"We've battled with a couple of injuries and haven't spent as long on the court together as we'd like. In Thailand, we had a tough tour. Switzerland wasn't perfect, but we saw small improvements and we have to take those as big wins at this stage.
"Coming off the long break, we suffered quite a lot and we've found it hard to get our rhythm back. I'm positive that this week will see another set of improvements."
One of the ties to watch in the first round sees in-form duo Ben Lane and Sean Vendy take on Indonesian big guns Mohammad Ahsan and Hendra Setiawan.
Lane and Vendy proved their worth at Super 1000 level with breakout victories in the Bangkok bubble in January.
They saw off rugged Russians Ivanov and Sozonov in the YONEX Thailand Open and reached the quarters of the Toyota Thailand Open, beaten by Ahsan and Setiawan, earning them a World Tour Finals place.
A new combination of Callum Hemming and Steven Smallwood hold England's third men's doubles entry, down to duel Danes Daniel Lundgaard and Mathias Thyrri.
Toby Penty first attended the YONEX All England Open as a wide-eyed 11-year-old fan and makes a dream tournament debut in the men's singles draw.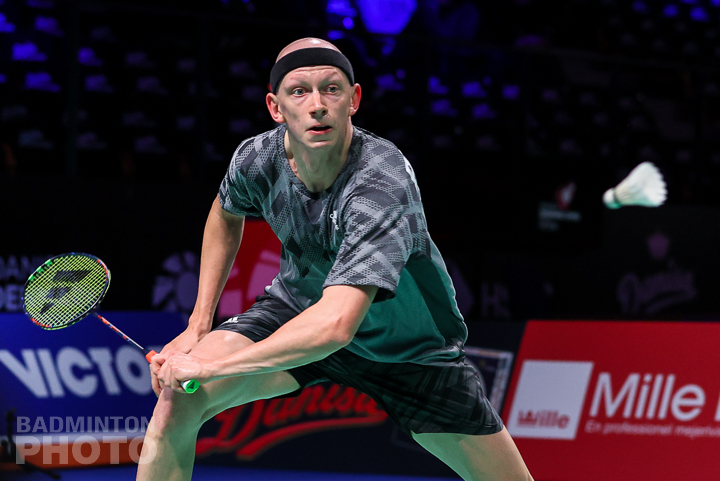 Penty was gutted to miss out on an invite this year but will take on Japanese Kanta Tsuneyama in the first round, with a possible meeting with Danish seed Rasmus Gemke to follow.
In the women's doubles, YONEX All England debutant Jessica Hopton and Jenny Moore combine with the latter keen to make amends for last year's first round retirement alongside Victoria Williams.
Williams will dovetail with Annie Lado this year, set for a tricky-looking opening assignment Danish eighth seeds Maiken Fruergaard and Sara Thygesen.
In the mixed doubles, Williams and Hemming take on one of the discipline's hottest pairings in the shape of France's Thom Gicquel and Delphine Delrue.
Smith said of the bumper English entry: "We've got a really big English representation, which is exciting and hopefully we can give our home fans something to be proud of.
"It's a huge arena, and the shuttle actually flies a bit differently than in smaller venues they might be used to playing in. That's something you can only learn at the top level.
"Normally there's a home advantage with the crowd here, and we will miss that. But I still think we'll benefit from that vibe of being in England and what we can access.
"For those young guys, this is a brilliant experience and I hope they can take a lot from it."
Photo credit: BadmintonPhoto