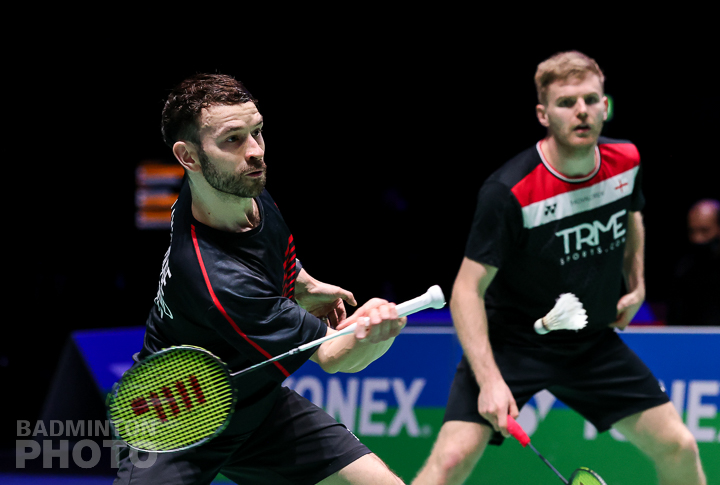 Marcus Ellis and Chris Langridge won the battle of the English and saved words of encouragement for Callum Hemming and Steven Stallwood on YONEX All England debut. 
The Olympic bronze medallists have nearly a decade of experience at the sport's most prestigious tournament and showed every inch of it in a 21-9 21-13 victory. 
The game only took 38 minutes but it was worth its weight in gold for Hemming and Stallwood, their first tournament action coming at Super 1000 level. 
"The lads played really well yesterday to beat a good Danish pair and did well again today," said Langridge. 
"It was a closer game than the score suggested. We played a lot better than we did in the first round, they just gave us a few easier points than we gave them. 
"We were a lot more clinical, not as many easy points. We're very pleased and this could have been a really tough one."
"They've got to take the belief from that first round win forward – if I were them, I wouldn't worry about today and would just move on."
Ellis and Langridge face Japanese third seeds Takeshi Kamura and Keigo Sonoda, who they have never beaten in their three past meetings.
Hemming and Stallwood, barely distinguishable with highlighted hairstyles and similar build, battled away on a dream first appearance at Utilita Arena Birmingham.
"To be fair coming off the court there's a lot of things we can work on," said Stallwood.
"You come to these tournaments to find out what you need to work on to get to that top, top level. They (Langridge/Ellis) showed that they can still toy with us but it was still so much fun and I can't wait to see what we can do in the future."
All three seeded English doubles pairings progressed, although Ellis's victory alongside Lauren Smith in the mixed was not to their satisfaction.
They edged Danish opponents Rasmus Espersen and Christine Busch 21-19 in the first game and gradually took control to seal the second 21-13. 
"I think we just chose the wrong tactics, playing in quite a small court, which is where they're strong," said Smith.
"It certainly wasn't the prettiest or best game we've ever played. It would have been quite easy to get down and dejected. Credit goes to our character in that moment." 
Meanwhile, Smith and Chloe Birch sailed through their second round test to set up a meeting with the women's doubles world No.1 pairing. 
They simply had too much for Danes Isabella Nielsen and Marie Louise Steffensen, taking it 21-14 21-11 – the same scoreline as their first round triumph. 
"We looked a lot stronger and were more disciplined than they were," said Birch.
"We're seeded this year and we had two games we thought we should win, we were favourites on paper and we delivered on that." 
Birch and Smith took a game off Yuki Fukushima and Sayaka Hirota at October's Denmark Open, but fell in straight games in their two other head-to-heads. 
There was a tough examination for Jess Hopton – making her YONEX All England debut – and Jenny Moore, who lost 21-18 21-7 to Malaysians Pearly Tan and Thinaah Muralitharan.