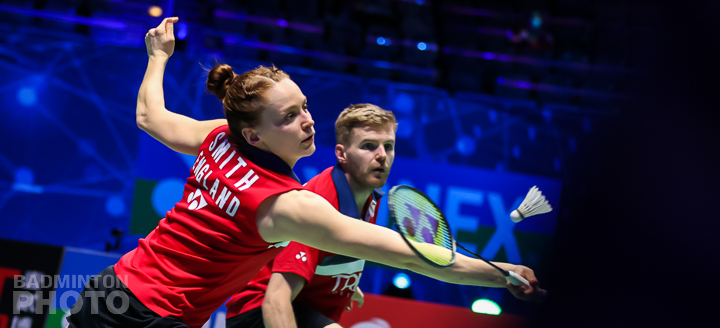 Marcus Ellis and Lauren Smith offered a typically forthright assessment of their performances as they were beaten in straight games in the semi-finals of the YONEX All England Open.
The fourth seeds were blown away by Japan's Yuta Watanabe and Arisa Higashino, who prevailed 21-10 21-18 and never gave the English duo get a look in with a powerful attacking display.
There is no hiding place at Super 1000 level and Smith admitted a poor start cost her and Ellis, who slipped into an 8-0 deficit and took interval after just five minutes.
"We weren't up to speed at all in the first set," said the Cumbrian. "Whether that was the change of level, a bit of focus, I'm not entirely sure. But it took us a set to settle in to better tactics and get our legs up to speed and play the quality we needed to."
The frenetic pace suited the Japanese pair, but the world No.9 pairing landed their fair share of punches in the second game. They held them to 17-16 but unforced errors in the latter stages saw Watanabe and Higashino progress; the sixth Japanese doubles team to reach the final, making it a clean sweep across men's, women's and mixed discipline.
"When we switched ends, we said we needed to push up the court and take the advantage they had over us. In parts, we did do that," assessed Ellis.
"That's probably the biggest positive I could take, that we managed to slightly change the way the game was going. I still feel quite disappointed with the performance.
Smith added: "You could see in their body language that they were finding it hard and they were worried. If we could have done that earlier and stepped up and shown a bit more, they wouldn't have played quite so freely."
The pair have been their own harshest critics throughout a tournament in which they didn't drop a set until their quarter-final meeting with the second seeds.
Smith, who also reached the quarter-finals of the women's doubles alongside Chloe Birch, says she will need no motivating on return to training after the manner of her exit.
"I've personally underperformed this week, which is disappointing because it's a real opportunity to do something good on home soil," she said.
"It will just drive training and motivate us to work even harder and come back stronger for the coming tournaments and next year."
Ellis's men's doubles hopes ended at the quarter-final stage alongside Chris Langridge and he believes his performances are gradually building in quality in an Olympic year.
"In training everything's going well but it does take time to get that into a competitive environment, and some have got back into it better than others," he said.
"With each passing tournament, there are small improvements, and other tournaments coming up give us the chance to keep doing that."