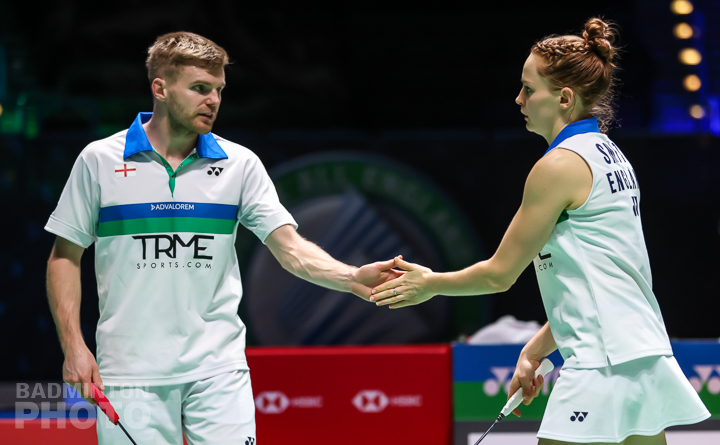 No cliches, no 'focus on the process' – Marcus Ellis and Lauren Smith insist they are in the semi-finals of YONEX All England to win the thing.
Nathan Robertson has been sitting courtside coaching 19 English players through this week, perhaps taking quiet moments in between points to remember the roar when he and Gail Emms took glory in 2005. That is, of course, the last time fans saluted a home victory.
Ellis and Smith sealed a semi-final spot for the second successive year, beating Denmark's Mikkel Mikkelsen and Rikke Soby in straight games and allowing us all to dream for another day.
"We talk about winning the trophy every day," said Marcus. "Yep, all the time," adds Lauren.
"Every time we come here, we come to win and you want to achieve everything you can," Smith said. "We'll look back on last year's semi-final as a huge part of our career.
"We can think about winning, and we want to better last year. It would be incredible to win. We've got another game tomorrow, and then we'll start focusing on what it takes to win."
What it takes is what Ellis and Smith have shown this week, the ability to play in this absurd new normal without fans and get results in spite of performances.
Neither were content coming off court in their second round clash with Rasmus Espersen and Christine Busch, and they picked holes in their quarter-final victory too.
But neither have they dropped a game in the tournament so far or played a game lasting longer than 45 minutes, as their quarter-final did on Friday night.
"You have to step out in every game and do the business," said Ellis.
"It's never easy, we have to be very proud of ourselves with the way we stuck in today."
Awaiting in the semi-finals are second seeds Yuta Watanabe and Arisa Higashino. The tale of the tape reads one match, one win to the English pair.
The muscle memory is there, but putting it into practice will involve repeatedly breaching the defences of the 2019 world bronze medallists.
"We're playing a pair who, on paper, should beat us," Ellis said.
"Head-to-head, we've played them once and beaten them once, so we do have to take some confidence from that, knowing we can beat them.
"This tournament is wide open and that's what we have to take forward, not being scared of anybody.
"We know, when we play our best, we can beat them. It's just a case of going out there and doing it.
"We can just get stuck into them."