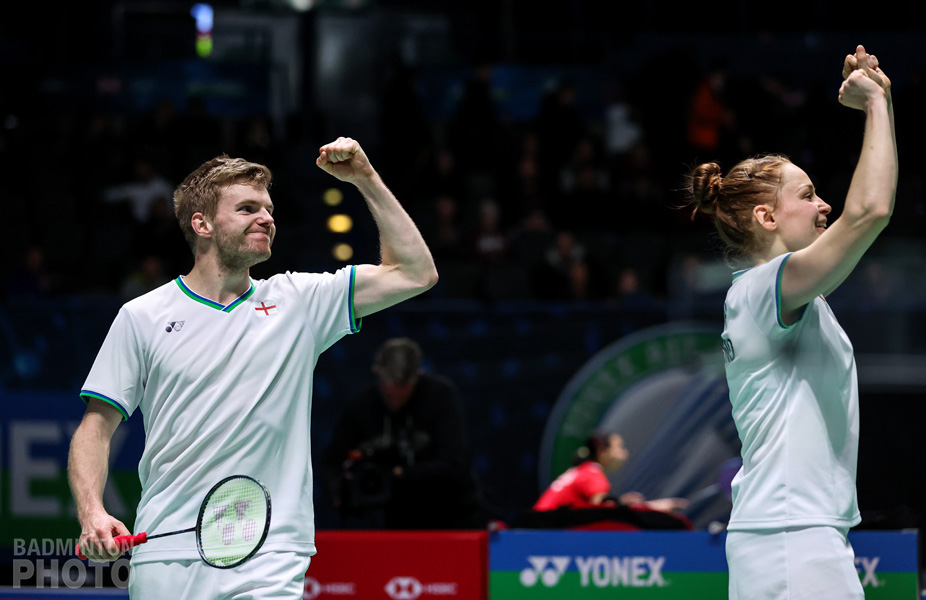 It's judgement day for Marcus Ellis and Lauren Smith as they prepare to jostle for a place in the YONEX All England final for the first time.
The fourth seeds are yet to drop a game in their three matches thus far, but almighty test awaits in the semi-finals in the shape of Yuta Watanabe and Arisa Higashino.
The pairs have met only one before – and it was Ellis and Smith's famous 25-15 25-10 win at the last year's tournament. So, advantage England? Not so fast according to Ellis.
"We're playing a pair who, on paper, should beat us," said the Huddersfield-born star. "So we can just get stuck into them, and we'll hopefully see a better performance.
"Head-to-head, we've played them once and beaten them once, so we do have to take some confidence from that, knowing we can beat them.
"This tournament is wide open and that's what we have to take forward, not being scared of anybody.
"We know, when we play our best, we can beat them. It's just a case of going out there and doing it."
It is the penultimate game of the day on Geoff Rofe Court, sandwiched between the men's singles semi-finals.
The Japanese pairing have had more success at the All England Open than any other major event. They beat Zheng Siwei and Huang Yaqiong to take the title in 2018.
They reached the final again a year later, with the Chinese pair exacting revenge in straight games. The duo then won bronze at the 2019 World Championships.
Watanabe is an All England winner in two disciplines, winning the men's doubles with long-time partner Hiroyuki Endo in 2020.
The pair are from Fukushima and went to the same high school. The devastating earthquake struck when they were training in the gym at the time.
The bond between Ellis and Smith is equally teak tough, and they believe they have what it takes
"We've stuck in when it's mattered this week," said Smith.
"In the second round we were down on our poor performance but in the quarters, we accepted it for what it was and found a way to win.
"We're proud of that. We'll bring a better level in the semi-final, it will be brought out of us in a lot of ways and I'm sure we'll go one step further than last year."